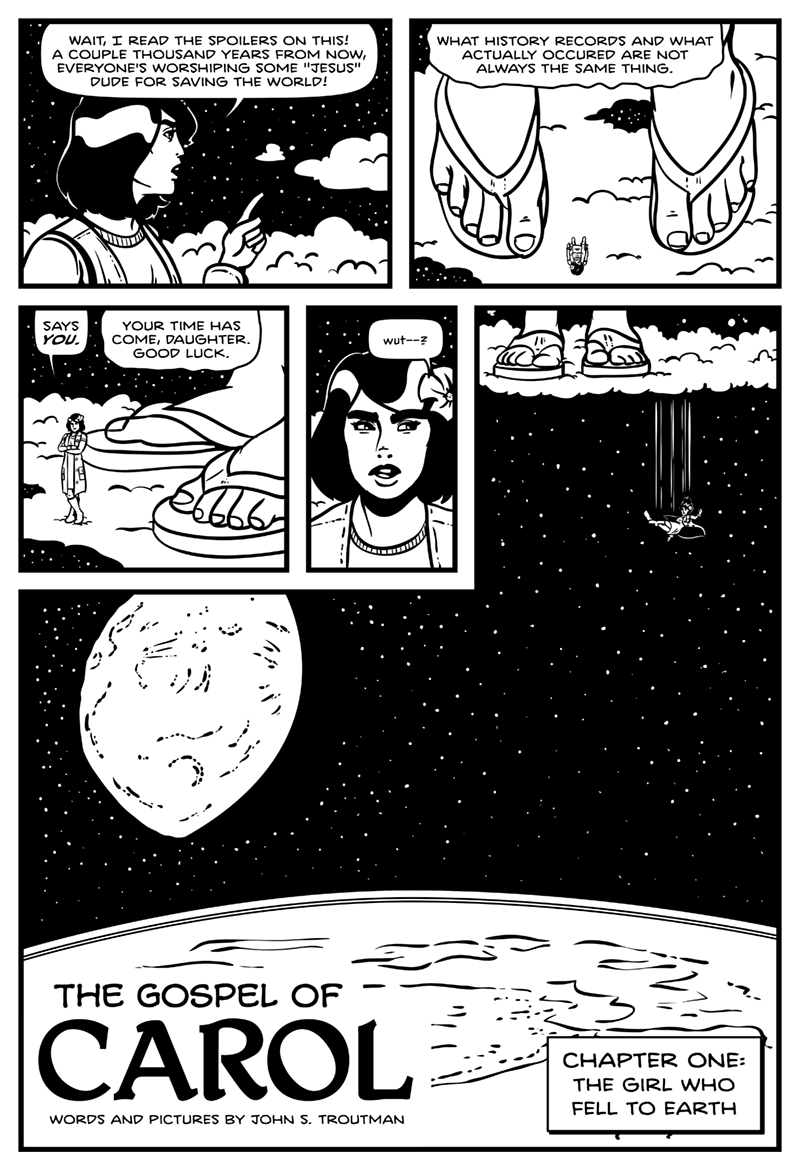 The Gospel of Carol is drawn largely from real Christian texts. I wanted to ground the comic in real history and myth, even if the story and characters are very, very silly. It's similar in design to Lit Brick, my webcomic about classic literature, in that I'm drawing relatively accurate versions of the original text, just with lots of really stupid jokes.
The first half of the first issue is drawn largely from the apocryphal Gospel of James, also known as the Infancy Gospel of James or the Protoevangelium of James, which makes it sound like James had a giant robot. James covers the history of Mary prior to Christmas, which mostly involves her kinda skeevy betrothal to Joseph.
After Mary's history, the rest of the issue is based on the canonical four Gospels, though trying to make sense of them is quite the chore. They don't really line up particularly well on the details. When in doubt, I used Luke, just because it was easier to use one single source than to try and combine all four.
Of course, it's not all Biblical. Silly Christmas tradition also comes into play because, hey, I'm a dude that loves him some Christmas.
NOW PLAYING:
The Gospel of Carol #1
Originally published in November 2013.
You can buy a digital copy of this issue, DRM-free,
from Gumroad or Comixology.
| | |
| --- | --- |
| | Carol: The daughter of God. She's not actually in this issue very much. Sorry. |
| | |
| --- | --- |
| | Mary: The virginal mother of God's offspring. She's a magical God-child too, but no one really cares. |
| | |
| --- | --- |
| | Joseph: The man tasked with keeping Mary or her children alive. He's less than thrilled. |
| | |
| --- | --- |
| | Lorraine: Carol's number one angel in Heaven. She doesn't seem to care for her boss. |
Unlock digital issues, behind-the-scenes info, early comic pages, and more!
DRM-free and only one dollar!